Retiree Corner
COLA for CSRS Retirees
After the second quarter of 2022, the third quarter for the 2023 COLA adjustment period, the quarterly average has increased by 7.4%.
HOW IT WORKS
The 2023 CSRS retiree COLA is based on the third quarter (July, August, September) average CPI-W index (1982-84=100) in 2022 over the 2021 third quarter average.
COLA for Social Security Recipients
After the second quarter of 2022, the third quarter for the 2023 COLA adjustment period, the quarterly average has increased by 7.4%.
HOW IT WORKS
The 2023 Social Security COLA is based on the third quarter (July, August, September) average CPI-W index (1982-84=100) in 2022 over the 2021 third quarter average.
APWU National Convention: Division, Retiree Conferences Get to Work
APWU National Convention: Division, Retiree Conferences Get to Work
August 15, 2022 Previous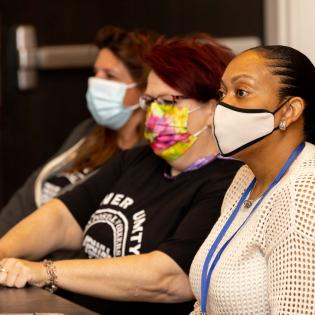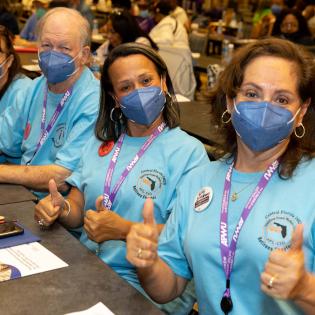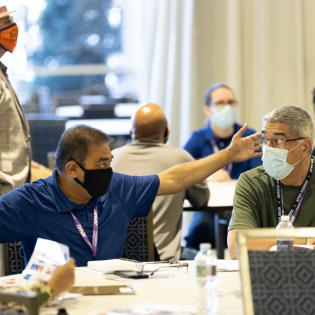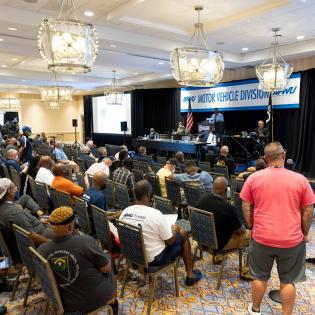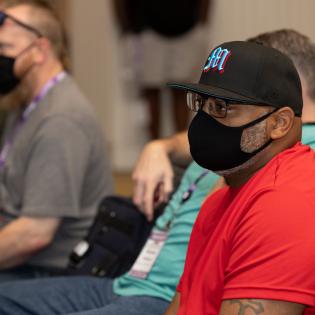 As delegates arrived in Maryland's National Harbor for the 26th Biennial National Convention, the Clerk, Maintenance, Motor Vehicle Services, and Support Services Divisions held their respective conferences, alongside the APWU Retirees conference.
At the Clerk Craft Division Conference, Director Lamont Brooks led members in discussion of how to continue to protect and expand craft jobs, remove the multi-tiered wage system, and how to be proactive against workplace harassment and safety issues.
Delegates heard about the creation of an RI-399 training manual, a "PSE conversion opportunities decision tree," and the intent to mentor new national officers to help retain institutional knowledge and help future generations in their battles with management.
At the Maintenance Division Conference, led by Director Idowu Balogun, members discussed the new Collective Bargaining Agreement, upcoming resolutions, and updates since the last convention. Delegates from across the country raised the impact of management understaffing of maintenance jobs.
The lack of job vacancies, availability of training classes, testing procedures, workplace safety, and promotion possibilities within the craft were all debated. The MVS Division Conference, led by Director Mike Foster, focused on resolutions that addressed delays in job postings, conversions, and the need for training for workplace safety.
At the Support Services Division Conference, Director Steve Brooks and delegates discussed newly ratified contracts, how to go about negotiating a new contract, and the differences in negotiating in the private sector compared to bargaining with the USPS. The conference also included a Questions and Answers (Q&A) session on what it's like working in each of their different bargaining units.
APWU MEMBERS PARTICIPATE IN PRE-CONVENTION WORKSHOPS
Over 1,000 members took part in twenty educational workshops and trainings on Friday, August 12. The workshops were organized by the Research and Education Department and its director, Joyce Robinson.
The workshops and trainings covered a wide range of issues, including contract enforcement, innovative organizing, fundamentals of labor law, communications for locals from the Postal Press Association, as well as social justice and racial equality. Members left the trainings with new tools and information to stand up for our members on the shop floor and in the streets.
Union Strong, All Day Long!
YOUNG MEMBERS: INSPIRING AND INVESTING IN OUR FUTURE
On Sunday, August 14, about 100 of the union's young members (age 35 and under) met to discuss their involvement in the APWU and what can be done to serve young members' needs. The meeting was addressed by national officers including President Mark Dimondstein, Executive Vice President Debby Szeredy, Secretary-Treasurer Elizabeth "Liz" Powell, Regional Coordinators Tiffany Foster, and A.J. Jones. Chairing the meeting, Western Region Coordinator Omar Gonzalez posed the question, "What do you expect from our union?" Responses included a variety of answers, including addressing hostile work environments, better understanding of young workers, educational and mentorship opportunities, as well as maximizing camaraderie and solidarity within APWU and throughout social justice movements around the globe.
Young members, such as Jalisa Harris, Greater Cincinnati Area Local, emphasized the importance of training so that "we can fight for our members and do the good work, and be well-trained in the information we need to handle the issues that we, as APWU members, experience at post offices daily." Che Magwood, New York Metro Area Local continued by speaking about the importance of solidarity among workers, saying, "that's how we make the union better."
Addressing the group, President Dimondstein said, "without young people, you couldn't have Occupy Wall Street, a Bernie Sanders campaign, a Black Lives Matter movement, or an environmental movement." He continued, "we should always welcome new activists and be willing to learn as well as to share, as you [young members] bring a certain perspective, a certain knowledge, a certain understanding that helps build this union."
He also emphasized the importance of embracing new activism in our union.
President Dimondstein ended his remarks by affirming the intention to reactivate the Young Members Committee, the possibility of holding a Young Members' Conference and establishing a Leadership Academy.
When polled, it became apparent that many participants of the caucus are attending their first ever APWU National Convention, affirming that the future leadership of the APWU is indeed in good hands.
PANEL DISCUSSION: THE THREAT TO DEMOCRACY AND HOW WE FIGHT BACK
On August 14, the Legislative & Political Department hosted an important panel discussion on voting rights and the January 6 insurrection. The panel, moderated by Katherine Isaac, Executive Director of the Debs Jones Douglass Institute, discussed what led to January 6, the voter suppression that has followed, and examined ways that workers and unions can fight to defend and expand democratic rights.
"It's not an isolated movement, it's not an isolated phenomenon, it's an ongoing threat to our democracy and it is election sabotage," said panelist Rob Weissman, President of Public Citizen, referencing the events leading up to the attempted coup in 2021.
The diverse group of panelists gave their own unique perspective on the ongoing attacks on democracy and increasing voter suppression. These include limits to vote-by-mail, voter intimidation, poll taxes, and gerrymandering, all of which attempt to influence elections by discouraging or preventing groups of people from engaging in the electoral process.
Both Mandla Deskins of the NAACP and Yanira Merino of LCLAA described how voter suppression initiatives disproportionally affect people of color and working-class communities. All of the panelists held up union membership and getting involved in unions as a key way to fight for democracy. They highlighted the importance of speaking to neighbors and friends about how civil rights are a workers' issue, and encouraged vote-by-mail initiatives to counteract the restrictive measures.
In response to a question about voter suppression from a participant in attendance, panelist Diana Philip of the Democracy Initiative encouraged APWU members to contact our senators during the current recess and ask them what they are going to do to strengthen voting rights. Additionally, Philip reiterated the need for standardized voting laws to make sure everyone enjoys the same right and opportunity to vote. These laws should include wide access to vote-by-mail, she said.
Richard Koritz, NALC Activist and APWU Solidarity Representative spoke of the accomplishments of the Black-led Reconstruction era and the white supremacist violence that destroyed it. "Ignorance of Reconstruction and its tragic aftermath may doom us to repeat such bitter life experiences."
Host Judy Beard, APWU Legislative & Political Director Moderator
Katherine Issac, Executive Director, Debs-Jones-Douglass Institute Panelists
Rob Weissman, President, Public Citizen
Mandla Deskins, Director of Advocacy, NAACP
Diana Philip, Chief of Staff, Democracy Initiative
Yanira Merino, President, Labor Council for Latin American Advancement (LCLAA)
Rich Koritz, Longtime NALC Activist & APWU Solidarity Representative
The PSRA and Postal Retirees
The PSRA and Postal Retirees
July 12, 2022
(This article first appeared in the July/August 2022 issue of the American Postal Worker magazine)
This time of the year we recognize the anniversary of Medicare, signed into law in July 1965 and Social Security, created in August 1935.
We celebrated the April 6 passage of the 2022 Postal Service Reform Act (PSRA) after over 15 years of legislative activism, and we achieved this legislative success by working together for the good of all workers, retirees, and the public. While signing the Bill into law, President Biden said "Today, we enshrine in law our recognition that the Postal Service is fundamental."
The PSRA addresses the finances and operations of the U.S. Postal Service (USPS). This bill repeals the requirement that the USPS annually prepay future retirement health benefits, which created a liability the for USPS. It also requires the Office of Personnel Management (OPM) to establish the Postal Service Health Benefi ts Program (PSHBP) within the Federal Employees Health Benefits Program (FEHBP), under which OPM may contract with carriers to offer health benefits plans for USPS employees and retirees. In addition, the bill also provides for coordinated enrollment of retirees under this program and Medicare.
Effective January 1, 2025 current postal employees who become Medicare eligible as retirees, will enroll in Medicare. Medicare then becomes their primary insurance and their postal-only FEHBP plan becomes their secondary insurance; these changes are projected to save the USPS nearly $50 billion over the next decade. All postal workers and postal retirees will be able to keep their current FEHBP and participate in the annual FEHBP open season.
Beginning April 1, 2024, during a six (6) month special enrollment period, those current postal retirees age 65 and over with Federal Employee Health Benefit Plan (FEHBP) who did not join Medicare Part B will be able to join Medicare B and have the "late enrollment" penalty waived. These changes are expected to save postal retirees money by eliminating out-of-pocket medical expenses and by mitigating future premium increases. In coordination with OPM, and no later than 18 months after enactment (April 2022), the USPS must establish a Health Benefits Education Program to notify and provide information about the PSHBP to annuitants and employees as well as respond to any inquiries.
The PSRA also ensures that the USPS will continue to provide six-day-delivery long into the future, and the USPS can provide certain nonpostal products and services, that reasonably contribute to the costs of the USPS and meet other specifi ed criteria, by entering into agreements with state, local, or tribal governments in other areas.
Celebrate The Anniversary of Social Security
Tell Congress to Pass the "Social Security Fairness Act" now, during the 117th Congress, before the end of 2022! The Social Security Fairness Act repeals the Windfall Elimination Provisions (WEP) enacted by Congress in 1983 and the Government Pension Offset (GPO) enacted in 1977. The WEP and GPO continue to adversely impact millions of retired federal, state, and local public servants who are not reaping the full retirement benefi ts that they paid for during their working life. These retirees qualify for Social Security benefi ts by working and paying the required rate into Social Security for least ten (10) years and they also receive a federal or state pension from other employment that did not pay into Social Security. Unfortunately, these retirees are denied an equitable social security benefi t for their contributions because WEP and GPO greatly reduces their social security benefits.
Contact your representative on Capitol Hill - write letters or postcards, and call 1-202-224-3121 or use the APWU line 1-844-402-1001, to speak to your congressional representatives.
Tell Congress that retirees deserve fair returns on their investment in the Social Security system.
Ask your congressional representatives to co-sponsor these and move these Bills to the Floor in order to vote for passage of H.R. 82 in the House and S.1302 in the Senate.
Remind your congressional representatives that older Americans also vote – there is power in our vote.
COVID-19 Vaccination and You
COVID-19 Vaccination and You
March 1, 2021
(This article first appeared in the March/April 2021 issue of the American Postal Worker magazine)
People have questions and concerns about the COVID-19 vaccine. While this article provides a few of the most commonly asked questions and answers, the CDC website provides more details as well as a complete list of facts and myths about the COVID-19 vaccines: www.cdc.gov/coronavirus/2019-ncov/vaccines.
Will a COVID-19 vaccination protect me from getting sick with COVID-19?
Both of the COVID-19 vaccines approved for use in the United States as this issue goes to press are shown to prevent at least 90 percent of infections. For those who do still contract COVID-19 after getting the vaccine, data shows a strong decrease in severity of symptoms.
The COVID-19 vaccination works by teaching your immune system how to recognize and fight the virus that causes COVID-19, protecting you from getting sick with COVID-19. Being protected from getting sick is important because even though many people with COVID-19 have only a mild illness, others may get a severe illness, have long-term health effects, or even die. There is no way to know how COVID-19 will affect you, even if you don't have an increased risk of developing severe complications. How long does protection from a COVID-19 vaccine last?
It is unknown how long protection lasts for those who are vaccinated. What is known is that COVID-19 has caused very serious illness and death for a lot of people. If you get COVID-19, you also risk giving it to loved ones who may get very sick. Getting a COVID-19 vaccine is a way to protect yourself and limit the spread of the virus. Experts are working to learn more about both natural immunity and vaccine-induced immunity. The CDC will keep the public informed as new evidence becomes available.
Do I need to wear a mask and avoid close contact with others if I have gotten two doses of the vaccine?
Dr. Anthony S. Fauci, President Biden's chief medical adviser for COVID-19, said in recent interviews that Americans may still be wearing masks outside their homes a year from now, even as he predicted the country would return to "a significant degree of normality" by fall. "When it goes way down and the overwhelming majority of people in the population are vaccinated, then I would feel comfortable saying...we don't need to have masks."
To protect yourself and others, follow these recommendations:
Wear a mask over your nose and mouth.
Stay at least 6 feet away from others.
Avoid crowds.
Avoid poorly ventilated spaces.
Wash your hands often.
If I have already had COVID-19 and recovered, do I still need to get vaccinated with a COVID-19 vaccine?
You should talk to your medical provider to receive advice on what could be the best choice for you.
Experts do not yet know how long you are protected from getting sick again after recovering from COVID-19. Even if you have already recovered from COVID-19, it is possible that you could be infected with the virus that causes COVID-19 again.
Those treated for COVID-19 with monoclonal antibodies or convalescent plasma, are recommended to wait 90 days before getting a COVID-19 vaccine. Talk to your doctor if you are unsure what treatments you received or if you have more questions about getting a COVID-19 vaccine.
If I have an underlying condition, can I get a COVID-19 vaccine?
The CDC writes that people with underlying medical conditions can receive the FDA-authorized COVID-19 vaccines as long as they have not had an immediate or severe allergic reaction to a COVID-19 vaccine or to any of the ingredients in the vaccine.
Vaccination is an important consideration for adults of any age with certain underlying medical conditions because they are at increased risk for severe illness from COVID-19.
UPDATE: After the print version of this article was published, the FDA approved a third COVID-19 vaccine that is now being administered.
Medicare and You
Medicare and You
January 23, 2020
(This article first appeared in the January/February 2020 issue of the American Postal Worker magazine)
Medicare is health insurance for people 65 and older, people under 65 with certain disabilities, and people of any age with End-Stage Renal Disease.
What is Original Medicare?
Medicare Part A and Part B is referred to as "original" Medicare.
Medicare Part A is hospital insurance. It covers inpatient care in hospitals; it also includes coverage in critical access hospitals and skilled nursing facilities. It covers hospice care and home health care, though you must meet certain conditions to get these benefits. Medicare Part A is free for most people.
Medicare Part B is medical insurance. It covers medically necessary services like doctor's visits, outpatient care, and other medical services that Part A doesn't cover, such as lab work and durable medical equipment. Part B also covers many preventive services. Medicare Part B has a standard monthly premium for most people. The 2020 Part B premium is $144.60. People with higher incomes may pay a higher premium.
Original Medicare has deductibles for inpatient hospital stays, medical coverage and coinsurance. Medicare usually pays 80 percent of the Medicare-approved amount for medically-necessary care. The coinsurance is usually 20 percent of the Medicare-approved amount. Original Medicare does not pay for prescription drugs, long-term care, routine dental services, routine vision care, and other services.
Most postal and federal retirees also keep their Federal Employees Health Benefit Plan (FEHB) which covers the co-pays and deductibles that Medicare Parts A and B doesn't cover. Medicare Parts A and B along with your FEHB plan should keep most out-of-pocket medical costs down.
When Can You Enroll in Medicare Part A and Part B?
There are three (3) possible enrollment periods for Medicare A and B: the Initial Enrollment Period, General Enrollment Period and Special Enrollment Period.
Medicare Initial Enrollment Period (IEP)
If you get Social Security retirement or disability benefits before age 65, the Social Security Administration will automatically enroll you in Medicare Parts A and B the month you turn 65. You'll get a "Welcome to Medicare" booklet and your Medicare card about 3 months before your 65th birthday.
If you aren't getting Social Security benefits or Railroad Retirement benefits you will need to enroll in Medicare Parts A and B during your Initial Enrollment Period. This is the period during the seven months surrounding the month you turn 65, when you're first eligible for Medicare. This period begins 3 months before the month you turn 65, it includes the month you turn 65 and ends 3 months after the month you turn 65.
Medicare General Enrollment Period (GEP)
The General Enrollment Period is the time period from January to March 31 of every year when you can enroll in Medicare Part B for the first time.
If you enroll during the General Enrollment Period your Medicare Part A and B coverage will begin on July 1. In most cases, you'll have to pay a late enrollment penalty.
Medicare Special Enrollment Period (SEP)
If you are turning 65 or over 65 and you or your spouse is still working and covered by an employer or union group health plan through your or your spouse's current or active employment, you can enroll in Medicare Part A and B during the Special Enrollment Period. There is usually no late enrollment penalty.
This is the eight (8) month period from the month you retire or the employer/union group health plan ends to enroll in Medicare Parts A and B. There are other circumstances that will allow you to enroll in Medicare Parts A and B during the Special Enrollment Period.
For additional information, contact the Social Security Administration at 1-800-772-1213 or visit your local Social Security office. You may also go online at socialsecurity.gov.
COLA for FERS Retirees
After the second quarter of 2022, the third quarter for the 2023 COLA adjustment period, the quarterly average has increased by 7.4%.
HOW THE COLA IS CALCULATED
The 2023 FERS retiree COLA is based on the third quarter (July, August, September) average CPI-W index (1982-84=100) in 2022 over the 2021 third quarter average.
However, if the CPI-W quarterly average increases 3% or more, they subtract 1%. For example, a 5% increase in the quarterly CPI-W average results in a 4% adjustment. If the quarterly average increases from 2% to 3%, benefits increase by 2%. A CPI-W quarterly average increase of 2% or less will increase benefits by the change in the CPI-W quarterly average.
Postal Retirement Benefits
Postal Retirement Benefits
The APWU and other federal unions have worked with Congress for many decades to ensure retirement income security for employees who spend their careers in government service.
Today, most postal employees are eligible to participate in one of two federal retirement benefit programs:
The Civil Service Retirement System (CSRS), which provides benefits for most workers hired before 1984.
The Federal Employee Retirement System (FERS), which covers all workers hired after 1984.
Though FERS pays a smaller monthly benefit than CSRS, FERS retirees also receive Social Security and Thrift Savings Plan payments.
Whichever plan you are enrolled in, your retirement benefits are administered by the U.S. Office of Personnel Management (OPM).
Regardless of how many more years you may work before retirement, it's a good idea to understand all the benefits you earn and to plan early.
For complete information about the CSRS and FERS, visit OPM's Federal Retirement Programs Web site, www.opm.gov/retire/index.asp, or visit your USPS personnel office.
About the APWU Retirees Department
About the APWU Retirees Department
The APWU Retirees Department is the voice of retired APWU members — within the union and on Capitol Hill.
Retirees helped build the union as we fought for — and won — better wages, improved benefits, and the right to be treated with dignity and respect.
Now, the union fights for retirees as Congress makes budget and policy decisions that affect our pensions and healthcare coverage, and that impact our lives in a profound way. The Retirees Department seeks to organize retired APWU members to join in these struggles.
The department also provides members with opportunities to see old friends — and make new ones— by participating in the activities of APWU Retiree Chapters and other union events.
The APWU Retirees Department was established in 1992 by delegates to the union's 11th Biennial National Convention. Our goal was to bring retirees back into the union family while advancing the objectives of retired and active union members. The creation of the department required the passage of an amendment to the APWU Constitution and Bylaws, approved by more than two-thirds of voting delegates.
At subsequent conventions, delegates amended the constitution to strengthen the voice of retirees in union affairs, voting to allow retirees to elect five regional Retirees National Convention Delegates; to improve funding of retiree chapters, and to allow members of the APWU Retirees Department to elect the department director, beginning with the 2007 election of national officers.
Currently, there are more than 80,000 APWU Retirees Department members, 39local Retiree chapters, and four state chapters.
Page Last Updated: Aug 16, 2022 (13:30:11)