Breaking News
APWU National Convention: Dimondstein Delivers State of the Union
APWU National Convention: Dimondstein Delivers State of the Union
August 16, 2022
DAY 1: CONVENTION HIGHLIGHTS
On Monday, APWU President Mark Dimondstein delivered the 'State of the Union.' He highlighted our successes and struggles and gave an outlook for a bright, while challenging, future. On Monday, APWU President Mark Dimondstein delivered the 'State of the Union.' He highlighted our successes and struggles and gave an outlook for a bright, while challenging, future.
Reflecting on the moment, Dimondstein said, "the pandemic has made it crystal clear what we always knew – it is we, the workers, who make the world go around."
Dimondstein condemned the current wave of voter suppression and the former U.S. president's attempt to hold onto power in a coup. He said "we must never accept as normal the rising white supremacist torrent of race hatred and bigotry that divides workers and led to the despicable racist massacres in Charleston, Pittsburgh, El Paso and Buffalo – all reflecting a dangerous drive toward fascism."
On the condition of the APWU, Dimondstein said, "together we are marching forward and building an activist, winning union. I submit to you that the state of our union is indeed 'Union Strong, All Day Long!'"
Dimondstein applauded the success of the 'U.S. Mail, Not for Sale' campaign and the defeat of the 2018 Presidential Task Force recommendations, which attacked collective bargaining rights.
This year, members ratified a new main union contract with a 94 percent "yes" vote. "The new contract secured annual wage increases, full COLAs, new work guarantees for PTFs, new career conversion opportunities for PSEs, restored Level 8 to the high career pay scale, limits on subcontracting of existing PVS driver work, maintained and enhanced job security no lay-off provisions and generally uplifted postal workers of all crafts," Dimondstein said. It also maintains the Cost Of Living Allowance (COLA). The new contract's second COLA amounts to $1.18/hr; it follows the $0.63/hr COLA in January.
In Congress, after 16 years of organizing, the Postal Service Reform Act was passed. Among other provisions, this law eliminates the prefunding retiree health benefit mandate of 2006.
Other accomplishments included winning liberal leave and COVID safety memos; securing $10 billion in postal COVID aid; 100,000 PSE conversions; 10,000 new clerk jobs in mail processing; improved member communications; joining struggles for racial and social justice.
Dimondstein also lauded the recent organizing campaign, which brought on 5,000 new members, as well as private-sector organizing wins.
"Our approach to sticking to the issues and never shying away from a fight has served our members well," Dimondstein said. "A solid new contract, historical postal legislation, improved staffing, a better path to career status and an openness to new and enhanced postal products. However, we must and will remain ever vigilant."
He stressed that, while the privatizers have been kept at bay, "Wall Street is still Wall Street" and the threat of privatization continues to rear its ugly head.
"Yes, the dangers are great but so are the opportunities," he said. "The weather will be stormy at times. But we have the good and sturdy ship called the APWU built with many hands over generations of struggle."
DOCTOR'S ORDERS: MEDICARE FOR ALL!
Dr. Claudia Fegan, the Chief Medical Officer of Cook County Health and the national coordinator of Physicians for a National Health Program, addressed the convention on Monday with a message about the urgent need for a single payer health care system in the U.S.
Dr. Fegan debunked myths about the affordability of a national health program, noting that the United States already spends more than $4 trillion a year on health care. "The United States is the only industrialized country in the world that does not guarantee universal access to health care," she said. "We already spend enough money to guarantee access to everyone. Yet medical debt is the number one cause of bankruptcy."
Introducing Dr. Fegan, Executive Vice President Debby Szeredy noted with pride that the APWU is a longtime supporter of Medicare for All.
"When we start putting profits before patients, we all suffer," Fegan noted. "When our government starts to support corporate greed over personal freedom, we all suffer. We have to fight back."
Dr. Fegan concluded, "No country has ever won universal health care without the support of labor. This is your fight! This is your fight!"
DELEGATES ADOPT CONVENTION RULES, FINANCE COMMITTEE REPORT PRESENTED, LABOR MANAGEMENT RESOLUTIONS
Delegates to the 26th Biennial Convention went right to work on the convention's first day.
After adoption of the convention rules, the delegates moved on to other business. The Finance Committee, introduced by Secretary Treasurer Powell, presented a report on the union's finances over the last four years, finding all relevant financial documents to be in order and the current revenues and assets of the union to be in great condition.
Attendees also began work on resolutions presented by the Labor-Management Committee that primarily focused on proposals for future contract negotiations.
CREDENTIALS COMMITEE, AUGUST 15, 2022
As presented by Co-Chair Lorraine Sawyer of the Massachusetts Postal Workers Union, the preliminary report for the APWU Credentials Committee for Monday, August 15, is as follows:
The 26th Biennial Convention's
2,017 delegates represent 297 locals, 43 states, Guam, Puerto Rico and the Virgin Islands. Also in attendance, 69 national officers and four Retiree National Convention Delegates.
ALEXANDRIA OCASIO-CORTEZ ADDRESSES APWU CONVENTION DELEGATES
Representative Alexandria Ocasio-Cortez (NY-14) addressed APWU delegates on Monday morning, highlighting the contribution of postal union members. "I can tell you, they are all out there, on the ground, putting in the work."
The congresswoman thanked postal workers for the many contributions during the pandemic. "You saved our elections by processing millions of mail-in ballots in 2020, through today, despite impossibly hostile conditions. You did that. You saved our elections. You saved countless lives and livelihoods during a global pandemic with your work," she remarked.
While many people, she noted, especially those in Congress, claim that progress is impossible, she pointed out that "what other people call impossible is another day on the job" for APWU members!
With growing support for labor unions, Rep. Ocasio-Cortez said, "What was impossible a year or two ago is now possible today, and it is important that we recognize that, because far too many people use the word impossible to signify what is really just a lack of political will and political imagination."
That is why we must continue to grow the movement. Winding up her speech, AOC urged us all to "Talk to your kids about why you're in a union. It's really incredibly important because there is power in a union. We all also are in the work of protecting our democracy. You all and your support for the For the People Act has been incredibly important in making sure that we build momentum in combating gerrymandering, ending the filibuster and expanding the right to vote."
DENA BRISCOE WELCOMES DELEGATES & COLOR GUARD
Nation's Capital Southern Maryland Area Local President, Dena Briscoe, opened the 26th Biennial National Convention with a welcome to APWU delegates from across the country. The morning's ceremonies were kicked off with a presentation of colors by the United States Air Force Honor Guard, Air Force District of Washington. Fazia Deen of the Dar Al Hijrah Islamic Center gave the invocation and the pledge of allegiance was led by Pam Richardson, Clerk Division National Business Agent.
POST OFFICE WOMEN FOR EQUAL RIGHTS (POWER) CAUCUS
Research & Education Director Joyce Robinson held a caucus to highlight POWER sisters. After an inspiring speech by CLUW President Elise Bryant, defending democracy and women's rights.
An awards ceremony was held for notable POWER Delegates. Joyce Robinson received a COPA Award for POWER's participation, presented by President Mark Dimondstein and Legislative & Political Director Judy Beard. Secretary-Treasurer Liz Powell, reminding all, "you don't have to dim another's light for yours to shine."
SENATOR CHRIS VAN HOLLEN WELCOMES DELEGATES TO THE OLD LINE STATE
Senator Chris Van Hollen (D-MD) welcomed delegates to National Harbor, MD. In a rousing speech, he highlighted our recent wins, including preventing the privatization of the USPS, promoting vote-by-mail, and in the passage of the Postal Service Reform Act.
"It really is because of all of you and your persistence and determination and advocacy over time," Van Hollen said. "You never gave up, and you got that across the finish line."
The senator supports key legislation, such as the Windfall Elimination Provision and Government Pension Offset, which affects Social Security benefits for certain workers and the restoration of the 2012 service standards.
The Maryland senator also encouraged members to hold our elected officials accountable and push for pro-postal legislation. He warned that, to get much of this passed, "We may also ultimately require getting rid of or amending the undemocratic [senate] filibuster, which has been an impediment to important progress in our country."
AFL-CIO PRESIDENT SHULER: POSTAL WORKERS ON THE FRONT LINES OF DEMOCRACY
In a speech to convention delegates, AFL-CIO President Liz Shuler praised the role that postal workers have played in preserving democracy and serving the American public. "You have taken on a growing role in our elections, truly serving on the front lines of democracy," she said. "You are not only making sure that people get their ballots but also their letters, paychecks and subscription medications."
Shuler talked about the importance of continuing to elect leaders who will fight for working people. Recent examples of beneficial legislation include passage of the Postal Service Reform Act strengthening the Postal Service and the Inflation Reduction Act that will help the middle class, protect the environment and reduce the cost of prescription costs and health care premiums.
The AFL-CIO president also emphasized the organizing power that unions can have when they join forces and work together, especially now with the increasing number of workers seeking union representation. To facilitate the effort of organizing, the AFL-CIO recently announced the formation of the Center for Transformational Organizing (CTO). "We need to rise up and capture the energy of this moment that is leading people to organize in all kinds of companies and in all kinds of industries," she said. "There is so much opportunity for organizing around us."
Among the reasons fueling the desire to organize is the fact that CEO pay continues to skyrocket while worker pay remains stagnant. According to the latest AFL-CIO pay watch study, CEO pay at the top 500 S & P companies is 324 times more than that of the average worker.
Concluding her remarks, Shuler said, "In this moment when we are facing so many challenges in our jobs, to our economy, to our democracy, to our freedoms, we have to face them together as a movement."
APWU National Convention: Division, Retiree Conferences Get to Work
APWU National Convention: Division, Retiree Conferences Get to Work
August 15, 2022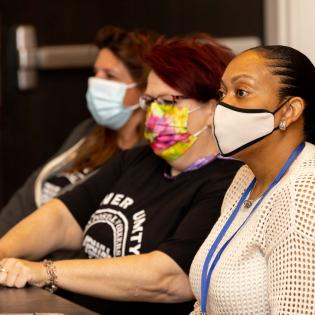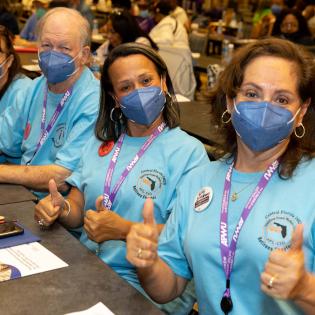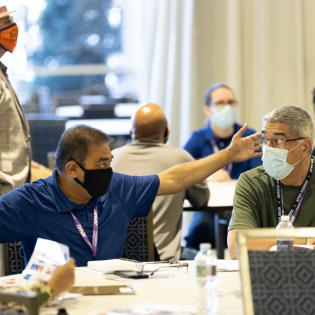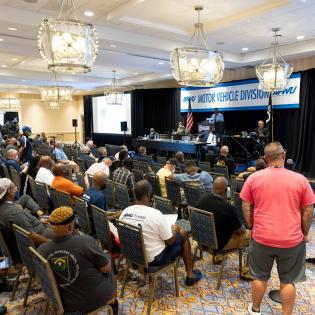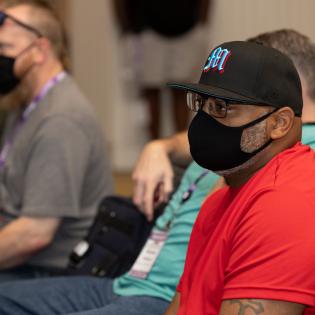 As delegates arrived in Maryland's National Harbor for the 26th Biennial National Convention, the Clerk, Maintenance, Motor Vehicle Services, and Support Services Divisions held their respective conferences, alongside the APWU Retirees conference.
At the Clerk Craft Division Conference, Director Lamont Brooks led members in discussion of how to continue to protect and expand craft jobs, remove the multi-tiered wage system, and how to be proactive against workplace harassment and safety issues.
Delegates heard about the creation of an RI-399 training manual, a "PSE conversion opportunities decision tree," and the intent to mentor new national officers to help retain institutional knowledge and help future generations in their battles with management.
At the Maintenance Division Conference, led by Director Idowu Balogun, members discussed the new Collective Bargaining Agreement, upcoming resolutions, and updates since the last convention. Delegates from across the country raised the impact of management understaffing of maintenance jobs.
The lack of job vacancies, availability of training classes, testing procedures, workplace safety, and promotion possibilities within the craft were all debated. The MVS Division Conference, led by Director Mike Foster, focused on resolutions that addressed delays in job postings, conversions, and the need for training for workplace safety.
At the Support Services Division Conference, Director Steve Brooks and delegates discussed newly ratified contracts, how to go about negotiating a new contract, and the differences in negotiating in the private sector compared to bargaining with the USPS. The conference also included a Questions and Answers (Q&A) session on what it's like working in each of their different bargaining units.
APWU MEMBERS PARTICIPATE IN PRE-CONVENTION WORKSHOPS
Over 1,000 members took part in twenty educational workshops and trainings on Friday, August 12. The workshops were organized by the Research and Education Department and its director, Joyce Robinson.
The workshops and trainings covered a wide range of issues, including contract enforcement, innovative organizing, fundamentals of labor law, communications for locals from the Postal Press Association, as well as social justice and racial equality. Members left the trainings with new tools and information to stand up for our members on the shop floor and in the streets.
Union Strong, All Day Long!
YOUNG MEMBERS: INSPIRING AND INVESTING IN OUR FUTURE
On Sunday, August 14, about 100 of the union's young members (age 35 and under) met to discuss their involvement in the APWU and what can be done to serve young members' needs. The meeting was addressed by national officers including President Mark Dimondstein, Executive Vice President Debby Szeredy, Secretary-Treasurer Elizabeth "Liz" Powell, Regional Coordinators Tiffany Foster, and A.J. Jones. Chairing the meeting, Western Region Coordinator Omar Gonzalez posed the question, "What do you expect from our union?" Responses included a variety of answers, including addressing hostile work environments, better understanding of young workers, educational and mentorship opportunities, as well as maximizing camaraderie and solidarity within APWU and throughout social justice movements around the globe.
Young members, such as Jalisa Harris, Greater Cincinnati Area Local, emphasized the importance of training so that "we can fight for our members and do the good work, and be well-trained in the information we need to handle the issues that we, as APWU members, experience at post offices daily." Che Magwood, New York Metro Area Local continued by speaking about the importance of solidarity among workers, saying, "that's how we make the union better."
Addressing the group, President Dimondstein said, "without young people, you couldn't have Occupy Wall Street, a Bernie Sanders campaign, a Black Lives Matter movement, or an environmental movement." He continued, "we should always welcome new activists and be willing to learn as well as to share, as you [young members] bring a certain perspective, a certain knowledge, a certain understanding that helps build this union."
He also emphasized the importance of embracing new activism in our union.
President Dimondstein ended his remarks by affirming the intention to reactivate the Young Members Committee, the possibility of holding a Young Members' Conference and establishing a Leadership Academy.
When polled, it became apparent that many participants of the caucus are attending their first ever APWU National Convention, affirming that the future leadership of the APWU is indeed in good hands.
PANEL DISCUSSION: THE THREAT TO DEMOCRACY AND HOW WE FIGHT BACK
On August 14, the Legislative & Political Department hosted an important panel discussion on voting rights and the January 6 insurrection. The panel, moderated by Katherine Isaac, Executive Director of the Debs Jones Douglass Institute, discussed what led to January 6, the voter suppression that has followed, and examined ways that workers and unions can fight to defend and expand democratic rights.
"It's not an isolated movement, it's not an isolated phenomenon, it's an ongoing threat to our democracy and it is election sabotage," said panelist Rob Weissman, President of Public Citizen, referencing the events leading up to the attempted coup in 2021.
The diverse group of panelists gave their own unique perspective on the ongoing attacks on democracy and increasing voter suppression. These include limits to vote-by-mail, voter intimidation, poll taxes, and gerrymandering, all of which attempt to influence elections by discouraging or preventing groups of people from engaging in the electoral process.
Both Mandla Deskins of the NAACP and Yanira Merino of LCLAA described how voter suppression initiatives disproportionally affect people of color and working-class communities. All of the panelists held up union membership and getting involved in unions as a key way to fight for democracy. They highlighted the importance of speaking to neighbors and friends about how civil rights are a workers' issue, and encouraged vote-by-mail initiatives to counteract the restrictive measures.
In response to a question about voter suppression from a participant in attendance, panelist Diana Philip of the Democracy Initiative encouraged APWU members to contact our senators during the current recess and ask them what they are going to do to strengthen voting rights. Additionally, Philip reiterated the need for standardized voting laws to make sure everyone enjoys the same right and opportunity to vote. These laws should include wide access to vote-by-mail, she said.
Richard Koritz, NALC Activist and APWU Solidarity Representative spoke of the accomplishments of the Black-led Reconstruction era and the white supremacist violence that destroyed it. "Ignorance of Reconstruction and its tragic aftermath may doom us to repeat such bitter life experiences."
Host Judy Beard, APWU Legislative & Political Director Moderator
Katherine Issac, Executive Director, Debs-Jones-Douglass Institute Panelists
Rob Weissman, President, Public Citizen
Mandla Deskins, Director of Advocacy, NAACP
Diana Philip, Chief of Staff, Democracy Initiative
Yanira Merino, President, Labor Council for Latin American Advancement (LCLAA)
Rich Koritz, Longtime NALC Activist & APWU Solidarity Representative
Statement of APWU President Mark Dimondstein in Response to Recent Remarks by Postmaster General Louis DeJoy on Future Postal Staffing
Statement of APWU President Mark Dimondstein in Response to Recent Remarks by Postmaster General Louis DeJoy on Future Postal Staffing
August 8, 2022
In a recent presentation before the neoconservative American Enterprise Institute, Postmaster General (PMG) Louis DeJoy outlined his views of the future direction of the United States Postal Service.
One remark from the Postmaster General during a discussion following his prepared speech created headlines that deeply concern postal workers and the American Postal Workers Union. The PMG said that, through attrition and retirements, the USPS "may need to get 50,000 people out of the organization" in the next 10 years to "break even."
Let me be perfectly clear with our members: Prior to the PMG's remarks, postal management had never discussed any such proposals or plans on the future size of the postal workforce or of the APWU bargaining unit. In fact, over the last two years the APWU and postal management have reached a number of settlements that increased much-needed staffing in Function 1 mail processing, creating 10,000 new clerk craft jobs. We are currently pressing management to agree to increase staffing in Function 4 Retail. We also reached a number of agreements, including in the recently ratified contract, resulting in tens of thousands of PSEs being converted to career positions. These are welcome developments and a testament to the powerful campaigns our union has led to demand management invest in the staffing and retention policies necessary to ensure we provide the quality service the public deserves.
I've spoken with the PMG since his remarks and made clear to him our position: without postal workers, there is no USPS. We make it work and we're committed to fulfilling our mission of providing essential services to the country. The best way to get the Postal Service back to break even is to focus on improving service quality, expanding and enhancing service, and growing the Postal Service's role in a fast-changing economy – including growing with long-needed staffing.
If it's management's intent to weaken our union, attack our pay and conditions or eliminate family-sustaining union postal jobs, the PMG will get a strong fight from the APWU. But let's also be clear about one thing – we don't bargain with newspaper headlines.
When PMG DeJoy was hired, we made clear that our union would judge the PMG based on his actions. When he degraded service in the summer of 2020, we opposed his actions and led the fight back which forced management to abandon the worst of those policy changes.
When PMG DeJoy introduced management's 10-year "Delivering For America" plan, I called it "the good, the bad, and the ugly." There were elements of the plan we supported, like efforts to grow the USPS's market share in the booming e-commerce business, advocating for six-day delivery and for a better path to career jobs for our non-career members. And we vowed to use every resource of our union to fight elements of the plan we opposed, like cuts to service standards and retail hours of operation.
We will oppose future job reductions that affect the lives of the postal workers we represent, good living wage union jobs for future generations and diminishes the good service the people deserve. Rest assured that any such management actions will be met with unbridled opposition of the APWU – the same kind of fightback, allied with the labor movement and the people of our country, that won the "Stop Staples" campaign, defeated the privatization plans of the White House in 2018 and compelled the USPS to do right in relation to vote by mail during the 2020 election.
Workers Are Fighting Back
Workers Are Fighting Back
July 13, 2022
(This article first appeared in the July/August 2022 issue of the American Postal Worker magazine)
There is a union movement that is blazing across the country. It's important for all of us to do our part to give support to workers that are standing up and fighting like hell to get a union like we have. There are workers forming their unions at Starbucks and Amazon, gig workers, tech workers, professors, students, cafeteria workers, nurses, child care providers, artists, journalists, migrant workers, truck drivers, and more -- all risking their jobs to have the security of a union. The Association of Flight Attendants is working hard to unionize at Delta, the only major airline without a flight attendant's union. This is a union that has pledged to us in our campaigns that they have our backs!!
In 1970, with incredible courage and solidarity, our foremothers and forefathers won their bargaining rights in the Great Postal Strike, and the APWU was born soon thereafter. Now it is our time to help build our union family. Let's face it, we have workers at Pitney Bowes and other mail houses that do not have the wages and benefits we do, yet work on the very same equipment as us for less...We need to start stepping up and reaching out to those workers that deserve good wages and benefits and lift them up by joining our union. UPS Teamsters are getting ready for their biggest contract fight, trying to reverse concessions made in previous years.
Think of ways that your local can help support this union movement not just outside our workplace but within our workplace too. We are only stronger when we stand together. We have some of our locals that have been standing together on picket lines for those workers unionized and non-unionized. A perfect recent example is the Phoenix Metro Area Local Officers and Retirees standing with the new independent Amazon Labor Union from Staten Island that are demanding negotiations of a first contract. Amazon has taken the successful union election on Staten Island to court in another venue, Phoenix, AZ. Phoenix Metro reacted very quickly and in three days they pulled together a group of APWU members to be there on June 19 and 20, to stand with Amazon Labor Union. We need to be prepared at short notice to help our Working Families. Have your APWU signs and t-shirts ready to lend a hand to those who have been less fortunate than ourselves.
Let's strengthen our workroom floor by developing more leaders in the membership, by continuing and strengthening the fight to keep our post offices and plants open, using our safety and health committees to protect our workplace and turn it around to be a place where you want to come to work. We complain of the hostile work environment, when we should be building strong committees of members to help plan ways to best stop it at the local level. Utilize committees in your local to strengthen and add to your list of activists. The time is now while the workers in this country are stepping up calling for unionization.
Legislative Priorities and the Fight Ahead!
Legislative Priorities and the Fight Ahead!
July 13, 2022
(This article first appeared in the July/August 2022 issue of the American Postal Worker magazine)
Service Standards/Appropriations
Returning USPS to its 2012 Service Standards remains a top priority of the APWU. In the 117th Congress, both the House and the Senate held hearings on USPS's declining service standards and invited APWU members to testify on the importance of returning USPS to its 2012 standards.
Your Legislative and Political Department continues to meet with lawmakers on the importance of preserving a fast, reliable, and accessible post offi ce. We fought for, and won, language in the Consolidated Appropriations Act of 2022 which was signed into law by President Biden on March 15, 2022. The language requires the Postal Regulatory Commission (PRC) to conduct a study that investigates and examines the benefi ts for USPS to return to its 2012 standards. This language has laid the groundwork for future fights to restore the speed of mail service that the American public deserves.
We will keep the APWU membership apprised of the results of this study, which must be completed within a year.
WEP/GPO Repeal
APWU continues our fight to repeal the Windfall Elimination Provision and Government Pension Offset. This law has robbed many of our CSRS retirees of their rightful Social Security earnings. There are several bills under consideration that would repeal WEP and GPO. President Dimondstein and I have met with lawmakers who have introduced some of the legislation and they have assured us that the fi ght to repeal is far from over and that support to take action is bipartisan. We are committed to build more support by working with other affected unions and organizations whose members are affected.
Voting by Mail Our Work Continues!
At the recent National AFL-CIO convention which took place in Philadelphia June 12-15, I had the privilege of participating on a two-person panel, along with Lori Augino, Executive Director of the National Vote at Home Institute that focused on the importance of voting by mail. I highlighted the work done by postal workers during the 2020 election to process 65 million ballots (almost double the number in 2016) as well as the success of the national election task force established between the USPS and the postal unions. That work was so valuable to our country that we were able to achieve a continuation of the Task Force in our recent collective bargaining agreement. The work our members did during the 2020 election is a prime example of democracy in action. The role postal workers play in the electoral process has been recognized all across the labor movement and throughout our communities. We will continue to work with our partners at the National Vote at Home Institute to advocate for national vote by mail.
2022 Midterm Elections
We are quickly approaching what may prove to be one of the most consequential elections for the labor movement. As voters go to the polls in November to cast their ballots, they will be making the decision of whether or not to elect lawmakers who stand with the working people of the country. The APWU will work to not only ensure pro-labor candidates are elected but that ballot initiatives and referendums that would enhance the lives of working people are passed. We encourage all of our members to get involved with voter engagement and empower people to exercise their right to vote.
Don't Stop Building Union Power!
Don't Stop Building Union Power!
July 13, 2022
(This article first appeared in the July/August 2022 issue of the American Postal Worker magazine)
As I write this article, we have just hit the target of recruiting 5,000 new members for our Building Union Power organizing drive.
I want to thank every member and officer who made Building Union Power a success. Remember that WE are the union. We cannot grow without everyone pitching in.
Each time we welcome someone into our union family and get them active, it makes us stronger. Speaking up with one voice makes us more powerful locally and nationally.
Let's keep up the momentum
Building Union Power was the start of our work to grow our membership, not the end. Let's keep up the work recruiting new employees and talking with nonmembers about why they should join us.
We can all learn and improve our organizing, so here are a few practical tips for you.
1. Map your workplace
A great way to start out a campaign is to map your workplace. Every local president has a list of non-members. That's the place to start. Map out their work locations and their tours. Plan who will talk to them. Who are their friends? That's who they will likely to listen to.
Once you know where and when the non-members are working, it's time to do assessments. I use a 1-4 scale to help figure out who to talk to first and how.
Organizers usually give a 1 to a really hot contact – someone who is very supportive and just needs a chance to sign up. A 2 is someone who is basically supportive but needs a conversation to close the deal.
A 3 is undecided. Maybe no one asked them to join; perhaps they're not anti-union but they had a bad experience; maybe they just don't know what they think. Lastly a 4 is anti-union.
Using an assessment scale helps you focus your energy on the most important targets. You can quickly move through the 1s and 2s. Then work on the 3s with an organizing conversation. Talk to your 4s, but don't waste too much time.
2. Have an organizing conversation
The aim of an organizing conversation is to help the non-member see why the union is the solution to their workplace problems.
Ask them about a workplace issue. Reflect back what they are saying. Let them know it doesn't have to be that way.
The next step in the conversation is identifying who caused the problem. For example, if management is causing a hostile work environment, name it!
Show how the union is the solution! It's the only way we ever got better pay, our benefi ts and our rights in the workplace. How can we use our collective power in the union to solve their problems?
Lastly, call the question! Assume agreement and go ahead! "If we we're going to solve that problem, we need everyone to speak up as part of the union, right?" "Right!" "So, will you join APWU now?"
3. Make building union power a part of your local's work
There's a lot for us to do. If it's not someone's responsibility, it won't get done. Do you have a local offi cer in charge of the organizing work? Do you get membership reports at union meetings? If you don't make it a priority, it's probably not happening.
4. Don't be afraid to ask for help
Whether you're a member who wants your local to do more or a local offi cer, steward or activist who needs support to make it happen, you can always ask for help.
There are resources available for you at apwu.org/organization. Start with your local offi cers. Then your NBAs and the Organization Department can help make your local's union-building work a success.
This is everyone's job
It's up to all of us to keep the momentum up. 5,000 new members is just the start. Let's work together to build a stronger union – it's how we keep fi ghting for good jobs now and far into the future.
Page Last Updated: Aug 16, 2022 (13:18:32)