Breaking News
APWU Members Make Almost 30,000 Calls to Congress
APWU Members Make Almost 30,000 Calls to Congress
July 26, 2020
On Thursday, July 23, APWU members and our allies made an incredible 28,156 calls to the senate. That's a phone call every three seconds! Together with calls made direct to Congress, not through the APWU Legislative Hotline, the total was likely closer to 30,000.
This is exactly the kind of pressure we need. Congress holds the key to solving the Postal Service's financial problems during this Coronavirus crisis. We need to work together to make sure the Senate approves at least $25 billion in aid to keep the USPS running.
We are starting to see this crisis hitting our day-to-day work. The Postmaster General is using it as an excuse to slow the mail. The new PMG policies include reducing hours in retail units including Saturday closings, delaying mail, slowing down service, further removal of mail processing equipment, arbitrarily reducing work hours and eliminating overtime.
With an already understaffed operation, reducing hours and overtime can only lead to severely delayed mail and packages.
There will be more for us to do in the coming days. Here are some thing we can do right now.
If you haven't called both senators already, make the call. Ask your co-workers to do the same at 844-402-1001.
Find out whether your local has a Collective Action Team and get involved. Talk to your stewards and officers about organizing events or actions to save the Postal Service.
When you suspect the mail is being delayed, report back to your stewards and local officers to help build a picture of how the service is being affected across the country.
We made sure the people we elect heard our voices clearly. Let's keep that pressure up.
Memorandum of Understanding Re: LMOUs for Offices Without a Local Union Structure
Memorandum of Understanding Re: LMOUs for Offices Without a Local Union Structure
July 13, 2020
The American Postal Workers Union, AFL-CIO and the United States Postal Service have agreed on a Local Memorandum of Understanding for Offices Without a Local Union Structure.
The parties negotiated and agreed to a Memorandum of Understanding Re: LMOUs for Offices Without a Local Union Structure that calls for the parties at the national level to develop a model "Local Memorandum of Understanding" within ninety (90) days of the effective date of a contract. The parties agreed to continue the provisions of the 2015-2018 LMOU with a few grammatical and style corrections. This LMOU, which became effective on July 3, 2020, can be found here: https://apwu.org/contracts/2018-2021-lmou-offices-without-local-union-structure.
The Industrial Relations Department is currently formatting the LMOU into booklet format for printing. Once the booklet has been printed booklets will be sent out to Presidents of State Organizations and National Business Agents to distribute.
Legislative & Political Hatch Act Training
Legislative & Political Hatch Act Training
July 22nd at 2PM EST
July 9, 2020
The Legislative & Political Department will be hosting a Hatch Act Zoom Training Webinar on July 22, 2020 at 2:00 PM EST.
The upcoming 2020 Election is quickly approaching. It is vital that all members know their rights and responsibilities pertaining to the Hatch Act.
The Hatch Act is a federal law passed in 1939. The Hatch Act limits certain political activities and restricts postal and federal employees from engaging in partisan political activity while on the clock or on postal or federal property. For more information on the Hatch Act, click here.
Work Year List
Work Year List
July 8, 2020
The APWU and the USPS have agreed to the work year list for the term of the 2018-2021 National Agreement. Work years (formally known as man-years) is a term the utilized by the APWU and the Postal Service to define the size of postal installations throughout the country.
The work year categories are broken down into three sizes:
200 work year installations

125 work year installations

100 work year installations
The determination is made by taking the total number of paid work hours for the bargaining units party to what is commonly known as the "Bridge Memo" signed in 1974. Once those paid hours are totaled, they are divided by 2080 hours to determine the number of "work years". This is calculated over the one-year period immediately prior to the expiration of a contract.
Based on the Bridge Memo the paid work hours of the APWU, the NPMHU (Mail Handlers), and the NALC (City Carriers) are counted. The work hours of rural carriers (NLRCA) are not currently counted in the work year determination as they were not a party to the "Bridge Memo".
The Industrial Relations Department was tasked with reviewing and verifying the data received from the Postal Service. After an extensive review, the APWU met with the USPS and discussed the results of the APWU review of the list. This review led to a small number of offices being moved into a higher category than originally listed and final agreement being reached with the Postal Service.
The work year size is used in variety of ways including but not limited to:
Transfer Ratios

Maximazation

Work Hour Guarantees

FTR vs PTF usage
The lists can be found here. If an installation is not listed in any of the three categories it fell below the 100-work year designation.
Postal Service Emergency Assistance Act, S. 4174
Postal Service Emergency Assistance Act, S. 4174 July 7, 2020 On July 3rd, Senators Susan Collins (R-ME) and Diane Feinstein (D-CA) introduced the Postal Service Emergency Assistance Act, S. 4174. This legislation would create a $25 billion fund for the Postal Service to recoup COVID related losses and expenses.

Two Million Signatures Delivered to Congress - Dozens of APWU Locals Join in Day of Action to #SavethePostOffice
Two Million Signatures
Delivered to Congress -
Dozens of APWU Locals
Join in Day of Action to #SavethePostOffice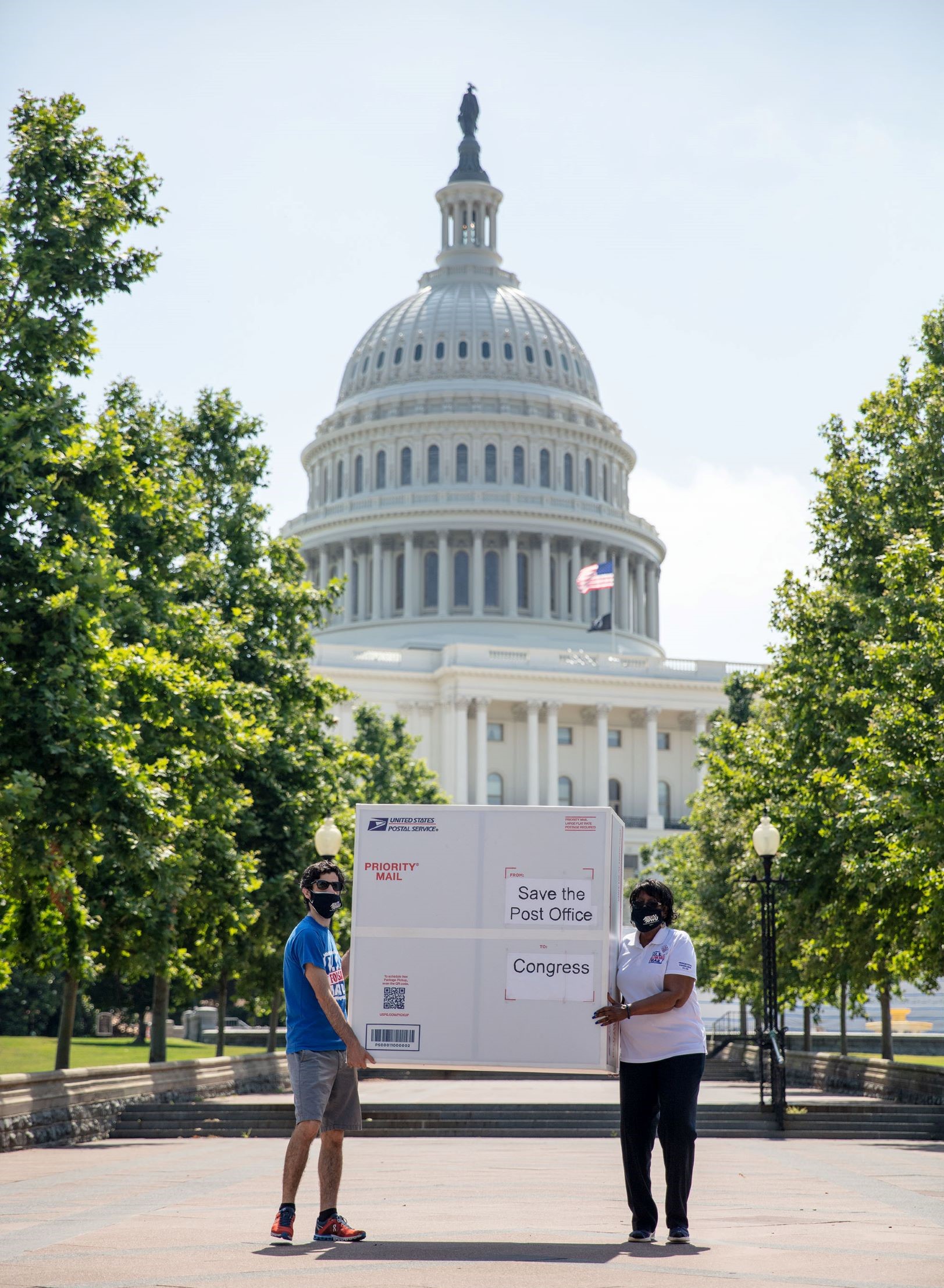 On June 23, over two million petition signatures demanding urgent postal funding were delivered to Congress. APWU members and postal supporters joined in a National Day of Action to Save the Post Office with car caravans, rallies, coordinated mailbox letter drops, and letter-writing events.
Due to a drop in revenue caused by the COVID-19 pandemic, the Postal Service will run out of cash without financial assistance from Congress. The House of Representatives passed a $25 billion emergency appropriation for the Postal Service in the HEROES Act on May 15, and the Senate is currently discussing additional stimulus legislation. Should the Postal Service run out of cash millions could go without delivery of life-saving prescription medication, Social Security checks, absentee ballots, and other vital services.
As the petition signatures were delivered in Washington, DC, APWU members brought the demand for postal funding to dozens of other cities, including New York City; Philadelphia; Detroit; Houston; San Antonio; Cleveland; Denver; Oklahoma City; Minneapolis; St. Paul, MN; Kalamazoo, MI; Portland, OR; Clarksburg, WV; Merrillville, IN; Miami, FL; Sacramento, CA; Des Moines, IA; Roseville, CA; Saint Charles, MO; Portland, ME; Raleigh, NC; Ann Arbor, MI; Ypsilanti, MI and Toledo, OH.
Dozens of Successful Events
The events were successful in gaining media attention from local newspapers and news channels, and sent the message about the urgent need for postal funding from dense urban cities to rural communities.
Philadelphia PA Area Local President Nick Casselli highlighted the White House's hypocrisy in declaring postal workers essential while refusing to properly fund the Postal Service in any stimulus legislation. "We're disrespected by [President] Trump and the government," President Casselli told WHYY, the city's public radio station. "We have to write our Senators. We've got to write to our governors and congressmen."
San Francisco Local President Cindy Datangel emphasized the need to fight back against the White House's use of the crisis to further its privatization agenda. "There's been a long fight in terms of forces that want to privatize the Postal Service, which would really be a big blow to the community that we serve," Datangel told San Francisco Public Press. "We serve so many people – the poor, the elderly, disabled – so we really need to keep the Postal Service as a service instead of a profit-geared business."
If you joined in the National Day of Action, send your pictures to communications@apwu.org. You can view photos from events around the country at APWU's Flickr page.
MoveOn Joins APWU for Live Event during National Day of Action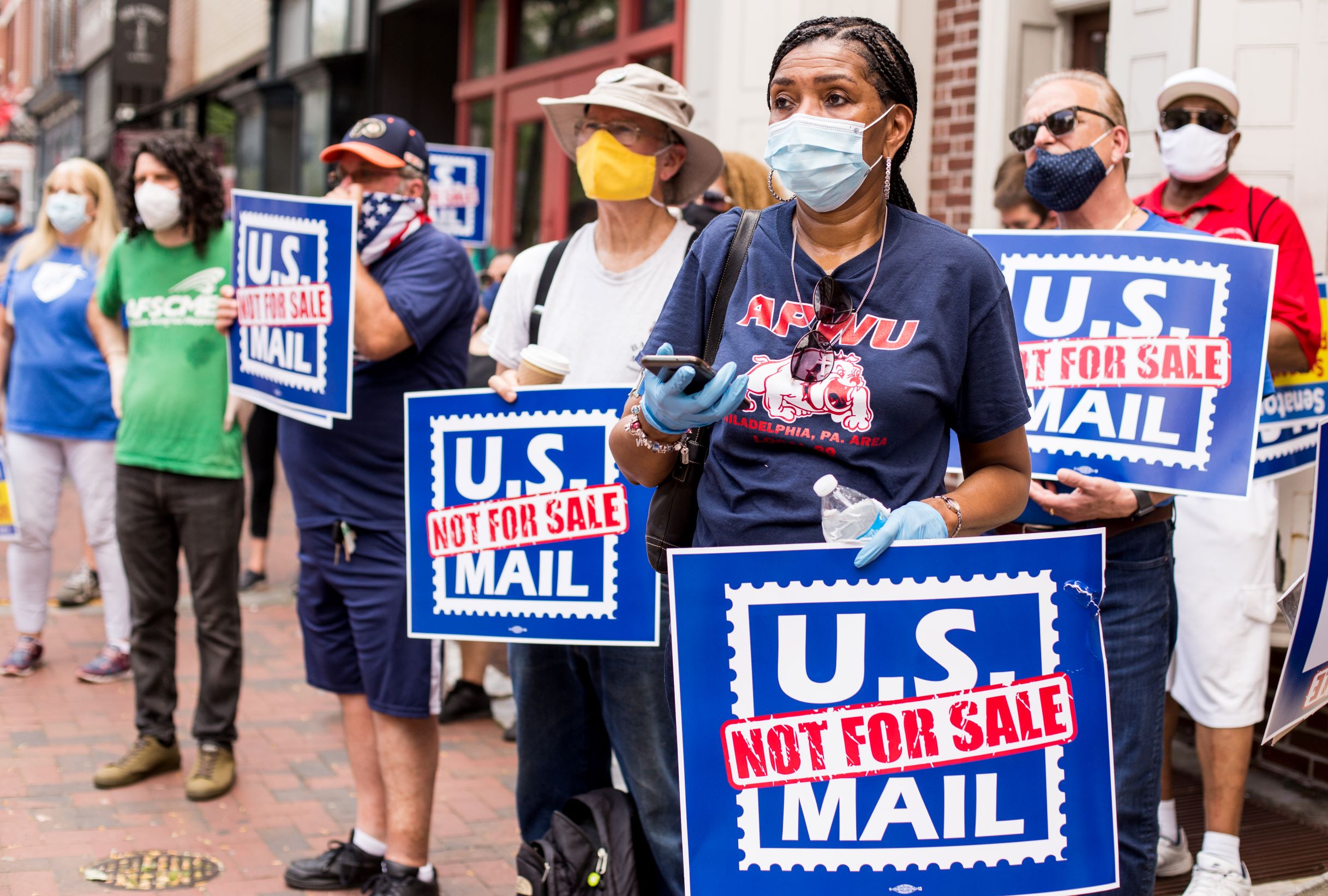 As locals rallied around the country, APWU National and MoveOn held a virtual live event with President Dimondstein and MoveOn Executive Director Rahna Epting, hosted by Social Security Works PAC President, TV personality and famed "Sha Na Na" musician Jon "Bowzer" Bauman.
The discussion centered on the need for an emergency appropriation from Congress in order to offset the revenue losses caused by the COVID-19 crisis, as well as the importance of the Postal Service to all communities – especially rural.
"Postal workers are very proud of our mission, and even in difficult and dangerous times have been out serving the people. Postal workers have been heroes," said President Dimondstein. "It hasn't been easy, but we've been there and we want to make sure that we continue to be there for generations."
"Inaction is not an option – that part is clear. This is about COVID relief," Epting said. "USPS does not normally need us to help them – this is a unique situation, a historic crisis that needs a historic response."
"The Postal Service must go – and we want it to go – to every address, no matter who we are or where we live, for the same, uniform price," President Dimondstein said.
The event also featured video statements of support from postal allies and labor leaders, including AFL-CIO President Richard Trumka, National Postal Mail Handlers Union President Paul Hogrogian, National Association of Letter Carriers President Fredric Rolando, AFSCME President Lee Saunders, , Alliance for Retired Americans Executive Director Rich Fiesta, and Jobs With Justice Executive Director Erica Smiley.
There were so many messages of support that not all of them were able to make it into the hour-long program. Additional messages, from NAACP Washington Bureau Director Hilary Shelton, AFT President Randi Weingarten, National Coalition on Black Civic Participation Melanie Campbell, Public Citizen President Robert Weissman and staff from Take on Wall Street are included in the video below.
In his remarks, President Trumka highlighted the White House's use of the pandemic to further their goal of privatizing the Postal Service, and committed the labor movement to preventing them from accomplishing their goal.
"This President is pushing his own privatization agenda. We are not going to sit idly by," Trumka said. "We cannot forget the connection between the Postal Service and our right as citizens – the right to vote and the right to be counted. Any threat to the Postal Service is a threat to democracy. The Postal Service is a lifeblood of our community and the labor movement will never let it be privatized."
The APWU Live event is available to view below, as well as APWU's YouTube page.
Working People Join Caravan for Racial and Economic Justice
Working People Join Caravan for Racial and Economic Justice
Reprint from AFl-CIO
On Wednesday, working people across the United States joined the Workers First Caravan for Racial + Economic Justice. In observation of social distancing guidelines for public safety, working people took to their cars and joined caravans across the country. America faces crises on three critical fronts: a public health pandemic, an economic free fall and long-standing structural racism. To address these crises, we must focus on America's Five Economic Essentials, which cannot be addressed without also taking on racial injustice directly.
America's Five Economic Essentials are:
1. Keep front-line workers safe and secure.
2. Keep workers employed and protect earned pension checks.
3. Keep state and local governments, our public schools and the U.S. Postal Service solvent and working.
4. Keep America healthy by protecting and expanding health insurance for all workers.
5. Keep America competitive by hiring people to build infrastructure.
APWU Executive Board Endorses Joe Biden for President
APWU Executive Board Endorses Joe Biden for President
June 9, 2020
The American Postal Workers Union's National Executive Board has voted to endorse Joe Biden for President of the United States. In their decision, the Board recognized his record of advancing the cause of unions, his support for the public Postal Service, postal workers, and his opposition to postal privatization.
As our country has confronted the pandemic, postal workers have heroically highlighted once again the importance of an affordable, universal and public Postal Service. Even as we have ensured that essential medicines, supplies and mail reached every address, serving the people at a time of incredible need, the Postal Service faces the prospect of closure. Without an immediate infusion of cash from Congress and the White House, the Postal Service will likely run out of money by fall due to COVID-related revenue losses.
Joe Biden recognized the stakes of this moment in a recent letter to the National Executive Board when he stated "This crisis makes clear: the USPS doesn't just perform the integral task of offering mailing and shipping services in accordance with its Universal Service Obligation, it is also often the social and economic lifeline to rural and lower-income communities across the nation. Our support for the Postal Service must match the commitment that its workers bring to serving our communities….I will continue to protect the Postal Service from all attempts at privatization."
A STARK CHOICE
In 2018, the White House issued two reports which laid out plans to raise mail and package prices while cutting service, to do away with our hard-won collective bargaining rights achieved in the heroic and Great Postal Strike of 1970, and even the outright sale of the people's Postal Service to private corporations. Recently, the White House went so far as to threaten to veto a major COVID stimulus package if it included support for the Postal Service even though both the House and Senate had reached a bipartisan compromise to ensure funding. The White House and the Treasury Department are advancing their plans to sacrifice the Postal Service on the altar of private profit, using the crisis of the pandemic to carry out their destructive policies. President Trump has labeled the public Postal Service "a joke", an insult to every postal worker and customer. In addition, President Trump's policies are hostile to unions and workers' rights, oppose living wages and a healthy environment, undermine Veteran benefits, threaten the vital programs of Social Security and Medicare and openly incite dangerous racial, ethnic and religious bigotry and division when the working class needs unity and solidarity more than ever to advance our common interests.
"The Executive Board fully recognizes and respects that our fellow members hold a wide array of political views and that their choices in this election will be a matter of personal conscience. However, the contrast in this presidential race is clear for postal workers," said APWU President Mark Dimondstein. "Donald Trump's policies have made it abundantly clear that he is a serious threat to our decent postal jobs, our unions and to the right of the people to a public Postal Service. Joe Biden has committed to support the Postal Service and its dedicated postal workers. Our union will continue to help build the movement to defend the public Postal Service and win a more just society."
The APWU National Executive Board believes that Joe Biden is the best choice in the upcoming presidential election. Former Vice-President Biden remains committed to helping end the assault on the Postal Service and our job security and will work with the APWU to secure the robust, vibrant, public Postal Service the people of our country deserve and help defend our rights to good, family-sustaining union jobs. As such, the National Executive Board committed to make every effort to educate and engage our members to elect Joe Biden as the next President of the United States and encourages members to be fully engaged in the 2020 presidential election.
Save the Post Office ad and Danny Glover spot hit the airwaves
Save the Post Office ad and Danny Glover spot hit the airwaves June 3, 2020 Postal workers and the fight to save the Postal Service hit the airwaves in two important new radio spots. A new radio ad, which focuses on the threat the USPS, was launched today by the American Postal Workers Union.

POStPlan PMR/PSE 818 Violation Remedy Payments Scheduled for June 12, 2020
POStPlan PMR/PSE 818 Violation
Remedy Payments Scheduled for June 12, 2020
Lamont Brooks

June 1, 2020




(This article first appeared in the May/June 2020 issue of the American Postal Worker magazine)
The first-round payments for the POStPlan PMR/PSE Usage Remedy have been scheduled to be paid on Pay Period 12-2020 (paycheck dated June 12, 2020). The remedy amounts as identified by the APWU will be included on current employee paychecks. Those individuals who are no longer working for the Postal Service will have a check mailed to the last office of record. The remedy will be identified on the paystub as adjustment/reason code 40/36.
To determine if you are eligible for payment, click here.
The eligible employees were either PSEs or PTF clerks (over 9000) in the level 4 and 6 RMPO offices and/or all career clerks in level-18 offices (over 100) from PP 02- FY2015 - PP 15-FY2017.
The Clerk Craft reached a $49.9 million dollar settlement with the USPS on POStPlan staffing violations. The monetary settlement follows a ruling by Arbitrator Stephen Goldberg that the Postal Service violated Arbitrator Goldberg's previous Sept. 4, 2014 award and a subsequent Memorandum of Understanding (MOU) dated Sept. 22, 2014.
The dispute was initiated after the Postal Service admittedly failed to honor their agreement that after December 22, 2014, the 'POStPlan' Remotely-Managed Post Offices (RMPOs) open 4 or 6 hours a day would be staffed with bargaining unit clerks, and Level 18 offices would be staffed with career employees. Long after the agreement, Postmaster Reliefs (PMRs) were still working in 4-hour or 6-hour RMPOs across the country and Level 18 offices reported still using PSEs instead of career employees.
New Contract – New Q&As – MOU Filling Clerk Craft Residuals
APWU & USPS Questions and Answers Explaining The Mutual Understanding Of The 2018-2021 Memorandum Of Understanding (MOU) Re: Filling Clerk Craft Residual Vacancies
With the continuation of the Memorandum of Understanding (MOU) on Filling Clerk Craft Residuals in the 2018 - 2021 Collective Bargaining Agreement (CBA), the Clerk Craft released a joint Q&A, to provide a more detailed clarification of the steps and procedures for PSE conversions and career transfers into Clerk Craft residual vacancies.
This joint document provides clarification on several issues that have remained concerns for APWU Clerk Craft employees – career and noncareer. Some of the issues addressed are:

Employee eligibility

The number of times needed to apply for a specific post office

How the ratios are applied in blocks of four or six, depending on office size

No make-up transfer opportunities within the block of four or six ratios

PTF retreat rights

Filling PTF vacancies

Dual deferment periods for SSDAs

Controlling language: Filling Residual Vacancies – Clerk Craft MOU vs Article 37.5.D

PSE conversions with the 2.5 years in 125 or more work year offices per the Goldberg award, with conversions effective 5/9/20

1:4 and 1:6 ratios being reset with June 1, 2020 posting in regular eReassign

First action review with the 1:6 ratio offices

Seniority date based on a PTF/PSE canvass for PTF vacancies

A limitation on the number of canvasses an employee can accept

I want to commend and personally thank Assistant Director Lynn Pallas-Barber for all her efforts in the implementation of this MOU and to our newly elected Assistant Director Sam Lisenbe for his valuable assistance and input. I would be remiss if I did not thank our NBAs for their input and guidance over the years on issues related to this MOU. I want to thank former Clerk Craft Director Clint Burelson, who relentlessly pushed for clear ratio language. Last, but not least, I want to thank APWU President Mark Dimondstein and Director of Industrial Relations Vance Zimmerman.
During Pandemic, Postal Workers Show Community Solidarity Across the Globe
During Pandemic, Postal Workers
Show Community Solidarity Across the Globe


June 2, 2020

(This article first appeared in the May/June 2020 issue of the American Postal Worker magazine)
As the COVID-19 pandemic continues around the world, postal services have become more important than ever as millions of people rely on the mail for lifesaving prescription medication, government retirement and social program benefits, and other necessities. Postal workers continue to deliver daily during these dangerous and difficult conditions. As people remain in their homes, the role postal workers have as important lifelines in communities everywhere is highlighted.
As U.S. Postal Service workers, our mission of universal service to everyone, no matter who or where, binds this country together. This mission is shared by postal workers across the globe, who set out every day to move the mail and go the extra mile to show solidarity with their communities during this frightening and uncertain time.
Indonesian Postal Workers Deliver Medical Supplies and Cash Assistance
As a country with a population spread across several island formations, COVID-19 presented Indonesia with a logistical and structural challenge. Yet, due to the work of postal workers in Pos Indonesia, the country's state-owned postal company, the government has been able to transport medicine and supplies around the country, and deliver cash and food assistance to families.
In West Java, the most populous province in the country, postal workers made nearly two million social assistance deliveries on April 15, the first day of the province's relief program. Postal workers made deliveries directly to households to avoid congregating of crowds in the densely populated cities in the province.
Delivering more than just the mail in the UK
In the United Kingdom, postal workers unionized under the Communication Workers Union (CWU) have been engaged in heated disputes with private mail operator Royal Mail for most of the past year. Union members overwhelmingly voted in favor of striking in March, around the time the country began feeling the effects of the pandemic.
As the crisis became more dire, the union temporarily set aside its plans to strike, continuing the important work of moving the country's mail, with a focus on solidarity with the people of their country.
"We are witnessing before our very eyes the importance of collectivism, of treating others as we would wish to be treated, and looking out for our neighbors," said CWU General Secretary Dave Ward. "The current outbreak will test us and it will hurt us. But it is also concentrating our minds on the things that matter."
This mindset of solidarity has stretched to the farthest corners and most rural parts of the country. In the small village of Worsthorne in Northwest England, postman Paul Parfitt delivered chocolate to many of the elderly residents in the community, most of whom are facing an indefinite period of isolation.
"I thought about how lonely it must be for so many people living alone at this time and so I bought some chocolates and left them on the doorsteps of the people on my round that I know live alone – and a special box to a local care home," Parfitt said.
In Nottingham, in Central England, 30 postal workers volunteered to pick up an extra Saturday shift on April 25, delivering mail while wearing superhero costumes to lift residents' spirits. Wages earned from the shift were donated to the Nottingham Hospitals Charity in the name of fellow postal worker Ian Pointer, who is recovering from COVID-19.
India Post Mobilizes to Transport Medicine and Supplies
On March 24, India went into lockdown to stop the spread of coronavirus. As a result, every non-essential business and service was forced to halt operations. This included much of the country's transportation infrastructure, including air travel and rail.
As an essential service, India Post workers are still moving the mail throughout the pandemic. Now, they have an extra responsibility during the crisis: transporting medicine, test kits, ventilators, and other medical supplies from urban centers into less populated areas. Medical manufacturers and suppliers, who usually rely on courier services, have turned to their public postal service to quickly and safely transport these life-saving supplies where they need to go.
With the most post offices in the world – at over 155,000 – India Post workers have been able to accommodate every request it has received, according to the BBC.
India Post also maintains a postal banking system, and has been able to maintain pension and Social Security payments, especially important for older and poorer citizens who live in rural areas.
Irish Postal Workers Engage in Community Support Program
In Ireland, the postal workers' union, Communication Workers Union (separate from CWU in the UK), and the country's mail operator An Post came together on an initiative to make sure the most elderly and isolated people receive the care they need.
Postal workers, at least once a week, are checking in on these customers and relaying any request for medicines or supplies back to the country's health service. Postal workers are then delivering these supplies so that their vulnerable customers do not have to risk going out to a pharmacy themselves.
"Postal workers have always been central to their communities and are anxious to help this national effort to get us through this crisis," said CWU General Secretary Steve Fitzpatrick. "Postal delivery staff know their customers better than anyone, particularly in rural areas, they're trusted and they very often have a well-established rapport with many people living alone in isolated areas."
These initiatives were not mandated from An Post – rather, they came from rank-and-file postal workers eager to use their network and relationships within their communities to help the country through the crisis.
Canadian Postal Workers Organize Caravans to Support Health Care Workers
Postal workers all over Canada are showing support for the country's health care workers by arranging caravans of postal vehicles through hospitals and medical facilities. In many caravans are also postal worker family members, out to support these crucial medical professionals.
These caravans have been organized in dozens of cities, including Toronto, Vancouver, Dartmouth, Montreal, Winnipeg, Maple Ridge, Calgary, Halifax, Windsor, and Ottawa.
"Our membership wanted to reach out to health care workers in the city and show tremendous appreciation and thanks to all those workers for what they have done and continue to do during the coronavirus pandemic," said Ian Anderson, President of the CUPW Ottawa Local, before their local caravanned on April 30. "It was decided a Health Care Workers Express convoy of our members driving safely past the hospital with signs and waving was a small way we could perhaps show that sentiment."
Safety for Postal Workers Remains Biggest Concern
While postal workers around the world are continuing their essential work of moving and delivering mail, many countries' postal services are lagging behind in ensuring the safety and protection of workers on the job. We stand in solidarity with our international postal worker brothers and sisters as they demand the necessary materials to deliver their mail safely.
"The health and safety of our postal workers must come first, no matter what services are provided during this pandemic. With the right safety measures in place our workers are ready to fulfill their public mission and be an important part of emergency services," said Cornelia Berger, Head of Post & Logistics at the UNI Global Union.
This Too Shall Pass
This Too Shall Pass
June 1, 2020
(This article first appeared in the May/June 2020 issue of the American Postal Worker magazine)
I hope this article finds everyone safe, healthy, and if impacted by COVID-19, recovering. I do not remember a time since I was hired into the Post Office more fraught with concerns. Our comfort zone as Americans is forever altered. We fought numerous campaigns to prevent the elimination of the Postal Service, but now we are literally fighting for our lives.
At the Regional level we are in constant contact with the Areas, getting updated information on an ongoing basis, ensuring that locals are notified and offices are properly cleaned when there is an exposure.
Resources Available on apwu.org
As essential workers, be aware of your rights and the protections. Apwu.org has vital information on the Families First Coronavirus Response Act (FFCRA). It provides language on emergency paid sick leave, what leave is available, how you take it and the documentation required. The law allows you to care for a child whose school or place of care is closed, or if their child care provider is unavailable.
We are fighting battles on two fronts. On the website is a link for you to tell your members of Congress to support our Public Postal Service during this crisis. Make your voice count now and going forward.
At a time when we all want to feel more in control, we can be proactive. Provide notice to Congress to support our Public Postal Service.
In the midst of this battle, there is uplifting news. The public is constantly thanking postal workers for being there, especially now during this crisis. Whenever I see a commercial with posters thanking first responders, doctors, nurses, grocery workers and others, I always look for postal workers on the signs and we are there. I have seen pictures and other expressions of thanks as well. Granted, a lot of the thanks are directed to carriers and window clerks because they are the face of the Postal Service. But, as we all know, they couldn't do what they do if the unseen workers did not do necessary processing, maintenance, and driving first.
Remember to Maintain Social Distancing
We all know a lot of the areas we work in are not large, but we must make every effort to maintain six feet of social distance in break areas, restrooms, locker rooms, etc. These spaces are not exactly roomy, but try to find a way to make it happen. Supervisors should be open to discussing changes that protect everyone on break.
Article 12
Starting in February, there has been some excessing. There were quite a few Maintenance impacts. All of the impacts have been met on, argued over, reduced in some cases, and grieved locally if necessary. The move date is now in September.
Clerk impacts are now starting to be issued and met on. It has been a while since we have had any excessing, so here are a few reminders. When excessing to the needs of the craft/and or installation, management must notify the Regional Coordinator six months in advance whenever possible, but no less than 90 days before. The memo that limits the excessing to a 50 mile radius is still in effect and the distance is measured by the shortest driving distance, address to address. If the impact/reassignment is within the installation, employees excess to the needs of a section, and the same notification is required to be given on the local level.
The notice is provided to the Local with the same meeting requirements. The Regional Coordinators, Omar Gonzalez (Western Region), Kennith Beasley (Southern Region), Tiffany Foster (Northeast Region), AJ Jones (Eastern Region) and I are available to assist you with information on excessing and the critical issue of COVID-19.
APWU Statement on the Killing of George Floyd and the Continuing Struggle for Justice
APWU Statement on the Killing of George Floyd and the Continuing Struggle for Justice
June 1, 2020
The three General Officers of the APWU, President Mark Dimondstein, Executive-Vice President Debby Szeredy, and Secretary-Treasurer Elizabeth Powell issued the following statement:
Fair minded people from all walks of life and political viewpoints are deeply disturbed and rightfully outraged by the killing of unarmed and handcuffed African-American George Floyd at the hands of four Minneapolis police officers.
George Floyd was pinned face down on the ground with a knee on his neck for over eight minutes. Treated less than human, it made no difference that Mr. Floyd repeatedly pleaded for his life, "Please, I can't breathe."
Reflecting a long history of oppression worsened with the recent rise of white supremacy emboldened from the highest office of the land, this incident followed recent killings of innocent African American people, while jogging (Ahmaud Arbery) or in their own home (Breonna Taylor). Mostly peaceful but understandably angry protests have erupted throughout the country.
Unions stand for good, living-wage jobs and solidarity of all working people, respect for each other and unyielding commitment to justice, fairness and equality in the workplace and in our neighborhoods in which we live. Postal workers live and work in every community across the nation, including the Minneapolis area. The people of the country are standing with us in defense of the public Postal Service and our good union jobs, and we must also stand with our communities' demands for justice. Martin Luther King Jr. put it so well: "Injustice anywhere is a threat to justice everywhere."
The APWU national convention is the highest authority of our union. At the 2016 convention, 2000 delegates from around the country, and all races, unanimously supported a "Black Lives Matter" resolution. It stated, "… the APWU will encourage its members to participate in any rallies, petition drives or other actions pursued by the campaign against racial discrimination and for transparency in policing."
In line with this convention action and with human decency and compassion, with unity and solidarity of all people and the continuing struggle for freedom and civil rights, we encourage our members and locals to speak out, protest and demand justice for George Floyd's family and community as part of the broader struggle of "liberty and justice for all."
Let's fight for a new day. Whether a person is jogging, doing their jobs, birdwatching, driving, being arrested, attending union meetings, or going to and from work, all human beings, regardless of our race and the color of our skin, have the right to be treated with respect and dignity and to life itself.
Treasurer Responsibilities During COVID-19
Treasurer Responsibilities During COVID-19
May 29, 2020
(This article first appeared in the May/June 2020 issue of the American Postal Worker magazine)
Coronavirus is wreaking havoc on many aspects of our everyday lives and we are collectively adjusting to what appears to be our new norm. Not only will we have to adapt to alternative methods of handling business in our personal lives, but our responsibilities as union officials will also require some adaptations in how we will function while staying within the provisions of the Labor Management Disclosure Act.
Fortunately, the Department of Labor (DOL) and IRS have recognized the unprecedented effects COVID-19 has placed upon labor organizations. As such, the DOL has issued two advisories that affect union elections and filing LM reports. Local Treasurers will want to take a look at whether their local circumstance(s) qualifies for the COVID-19 Employee Retention Payroll Tax Credit under IRS guidelines.
Union Elections
There are DOL advisories on public disclosure reporting in areas affected by the COVID-19 and on union elections if a local or state affiliate has to cancel or postpone their convention when there is an election requirement. The Office of Labor and Management Standards (OLMS) recognized that due to the disruption caused by COVID- 19, it may be difficult or impossible for some unions to conduct timely union officer elections.
OLMS issued this advisory for those unions whose principal office is located in the affected areas or whose reportable activities occurred in those areas. The advisory states that affected labor unions must make a good faith effort to conduct elections as required under the LMRDA in those affected areas. However, if local and state affiliates are unable to comply, they would be required to hold the election when reasonably practicable on a certain date.
LM Report Filing Extended
The Department of Labor has updated its advisory extending the LM report filing until June 30, 2020 for locals affected by COVID-19. Local presidents do not need to contact OLMS before the LM report is due if the reporting deadline was prior to June 30, 2020. Local LM reports must be electronically filed by June 30, 2020, absent further notice from OLMS.
COVID-19 Employee Retention Payroll Tax Credit
An employer (including exempt organizations) is eligible for the employee retention payroll tax credit if an employer's operations were fully or partially suspended due to a COVID-19 related shut-down order, or gross receipts declined by more then 50 percent as compared to the same quartering the prior year.
An eligible employer will claim its total qualified wages and its employee retention credit on its quarterly employment tax return, beginning with the second quarter. Local treasurers may want to refer to the IRS.gov webpage to see if there have been any IRS updates pertaining to the COVID-19 employee retention payroll tax credit or send an email to aaugust@apwu.org if you have any questions.
Convention Resolutions
Although the scheduled August 2020 National Convention has been postponed until further notice, the submission of resolutions will continue. Please continue to send any and all convention resolutions to 2020resolutions@apwu.org.
Training Webinars
Training webinars are available for new and current local officers in areas pertaining to officer fiduciary responsibilities. COVID-19 does not prevent locals officers from obtaining necessary training.
After confirming an available date, an invitation to register for each webinar will be emailed to all Presidents, Treasurers, and Secretary-Treasurers before the webinar is scheduled. Presidents are encouraged to invite executive board and committee members to participate when appropriate.
A computer with internet access is necessary to see the presentation and a telephone to call in to hear. The confirmation email contains the link to join the webinar and the toll-free number to call, as well as the access code (cell phone users, check with your carrier to see if charges or minute usage will apply). Please contact the Secretary-Treasurer's Department at 202-842-4215 or email aaugust@apwu.org for more information.
Join the Mass Poor People's Assembly & Moral March on Washington Digitally
Join the Mass Poor People's Assembly & Moral March on Washington Digitally
A National Call for Moral Revival: June 20, 2020 Online at 10am & 6pm EST
May 29, 2020
The Mass Poor People's Assembly & Moral March on Washington is going digital! On June 20th, we will hold the largest digital and social media gathering of poor and low-wealth people, moral and religious leaders, advocates, and people of conscience in this nation's history. A global pandemic is exposing even more the already existing crisis of systemic racism, poverty, ecological devastation, the war economy and militarism, and the distorted moral narrative of religious nationalism. On June 20, the 140 million poor and low-income people across this nation will be heard!
The program will be broadcast on Saturday, June 20th at 10 AM EST and 6 PM EST. It will be rebroadcast on Sunday.
RSVP TO JOIN THE DIGITAL GATHERING
2020 Scholarship Deadline Extended to June 30, 2020
2020 Scholarship Deadline Extended to June 30, 2020
May 28, 2020
The deadline for the submission of applications for the E.C. Hallbeck academic scholarship ($8,000 over a four-year period), vocational scholarship ($3,000 over a three-year period) and Best Essay Award (one-time $2,000 towards four-year college tuition) has been extended to June 30, 2020, APWU Secretary-Treasurer Liz Powell has announced.
Over 60 Labor Leaders Urge Congressional Leaders to #SaveThePostOffice
Over 60 Labor Leaders Urge Congressional Leaders to #SaveThePostOffice
May 25, 2020
On May 11, over 60 Labor leaders sent a letter to House Speaker Nancy Pelosi and Senate Majority Leader Mitch McConnell, copying both the Postal Board of Governors and the Postmaster General, urging them support the United States Postal Service.
The letter states, "As representatives of our 17 million members and all American workers, we write to thank you for your national leadership during this ongoing crisis to protect the wages, salaries, and benefits of working people and to help families make it through these deeply challenging times. We write to ask you to extend that protection and help to the 640,000 steadfast employees of the United States Postal Service (USPS) who every day carry out their essential services on behalf of the people of this country."
It concludes, "At a moment when the federal government has stepped up to support struggling businesses of all shapes and sizes, and invested in critical industries, from aviation to agriculture, it is both fitting and urgently necessary to address the needs of the USPS and its workers now. The mission of the Postal Service, written in federal law, is "to bind the Nation together" through "the correspondence of the people." It is our collective responsibility to preserve that bond. The Postal Service is older than our nation itself and is the only federal agency enshrined in the United States Constitution. We ask for your commitment to support the Board's request to stand by this unique and irreplaceable national service and the dedicated Americans who work every day to fulfill its mission."
The letter is signed by Richard L. Trumka, President, AFL-CIO, and the president of each postal union: Fred Rolando, President, NALC; Mark Dimondstein, President, American Postal Workers Union, AFL-CIO; Paul Hogrogian, National President, Nat'l Postal Mail Handers Union; Ronnie Stutts, President, Nat'l Rural Letter Carriers Association.
Cosigners also include Randi Weingarten, President, American Federation of Teachers; Robert Martinez, Jr., International President, International Association of Machinists & Aerospace Workers; Sara Nelson, Int'l President, Association of Flight Attendants-CWA; James T Slevin, President, Utility Workers Union of America; Tom Conway, International President, United Steelworkers; Paul Shearon, President, Int'l Federation of Professional & Technical Employees; Christopher M. Shelton, President, Communications Workers of America; James P. Hoffa, General President, International Brotherhood of Teamsters; Mary Kay Henry, Int'l President, Service Employees International Union; F. Leo McCann, President, American Train Dispatchers Association; Lee Saunders , President, AFSCME; Bonnie Castillo, Executive Director, National Nurses United; Lonnie Stephenson, Int'l President, Int'l Brotherhood of Electrical Workers; Raymond M. Menard, President, American Guild of Musical Artists; Cecil Roberts, International President, UMWA; John Samuelsen, International President, Transport Workers Union; Paul M. Rinaldi, President, NATCA; Marc Perrone, International President, UFCW; Daniel E. Stepano, General President, OPCMIA; Terry O'Sullivan, General President, LIUNA; Richard Lanigan, President, OPEIU; Kenneth E. Rigmaiden, General President, Int'l Union of Painters & Allied Trades; Harold J. Daggett, President, International Longshoremen's Association; Matthew Loeb, International President, IATSE; Harold A. Schaitberger. General President, Int'l Association of Fire Fighters; Michael Sacco, President, Seafarers International Union; Anthony Shelton, President, BCTGM; Joe DePete, President, Air Line Pilots Association, International; Jerry C Boles, President, Brotherhood of Railroad Signalmen; D. Taylor, President, UNITE HERE; Lily Eskelsen García, President, NEA; James P. McCourt, General President, International Association of Heat and Frost Insulators and Allied Workers; Marshall Ainley, President, Marine Engineers' Beneficial Association; Everett B. Kelley, Nat'l President, American Federation of Government Employees; Ernest Logan, President, AFSA; Stuart Appelbaum, President, RWDSU; Gabrielle Carteris, President, SAG-AFTRA; Tefere A. Gebre, Executive Vice President, AFL-CIO; Elizabeth Shuler, Secretary-Treasurer, AFL-CIO; Jennifer Dorning, President, Department for Professional Employees; Jimmy Hart, President, Metal Trades Department; Richard Kline, President, Union Label & Service Trades Department; Michael Sacco, President, Maritime Trades Department; Larry Willis, President, Transportation Trades Department, AFL-CIO; Rick Bloomingdale, President, Pennsylvania AFL-CIO State Federation; Michael Louis, President, Missouri AFL-CIO State Federation; Charles Wowkanech, President, New Jersey State AFL-CIO; Alan B. Hughes, President, Arkansas State AFL -CIO; Ben Valdepeña, President, California State Employees Association; Patrick J. Eiding, President, Philadelphia Central Labor Council; Elise Bryant, President, Coalition of Labor Union Women; Cynthia Estrada, Executive Council Member, UAW; Clayola Brown, National President, A. Philip Randolph Institute; Warren Fairley, IVP SE, EAIP, Boilermakers; Fred Redmond, Vice-President, United Steelworkers; Bruce R. Smith, GMP Council Chairman, GMP/USW; George E McCubbin III, National Vice-President, AFGE District 12; Jerame Davis, Executive Director, Pride at Work; and, Al Ekblad, President, AFL-CIO Western District.
June Training Webinars
June Training Webinars
May 19, 2020
The Industrial Relations Department will be holding a series of Webinars during the month of June for local leaders, stewards, and support staff. Four webinars will be held on the following topics:
THE BASICS OF APWU SEARCH
On June 17, 2020 at 2:00 pm EDT, the Industrial Relations Department will be hosting a webinar on the basics of APWU SEARCH (LexisNexis). APWU SEARCH is the national and regional arbitration database. Arbitration advocates can use the cases found in the database to bolster their arbitration cases. Stewards and officers can use the knowledge they learn from reading arbitrations to develop even better grievances at step-1 and step-2. The webinar will cover how to get access, logging in, setting up your browser, doing basic and more advanced searches. Please click here to register for the webinar. Participants will need access to a computer to have the best learning experience.
https://register.gotowebinar.com/register/7125007278660931595
ELECTRONIC GRIEVANCE SYSTEMS (EGS) BASICS
On June 23, 2020 at 2:00 pm EDT, the Industrial Relations Department will be hosting a webinar on the Electronic Grievance System (EGS). The webinar will last approximately one hour with a question and answer period at the end of the presentation. The webinar will cover the basics of EGS, entering a grievance, sending a grievance to management, and reports you can generate in EGS. Please click here to register for the webinar now. Participants will need access to a computer to participate in the webinar.
https://register.gotowebinar.com/register/2630425845661600523
ELECTRONIC GRIEVANCE SYSTEMS (EGS) FOR ADMINISTRATORS AND SUPPORT STAFF
On June 23, 2020 at 3:30 pm EDT, the Industrial Relations Department will be hosting a webinar on the Electronic Grievance System (EGS). The webinar will last approximately one hour with a question and answer period at the end of the presentation. The webinar will cover the more advanced features of EGS for administrators and support staff. This will include adding and removing users, access levels, resetting passwords, reports, and explanation of link technology as well as other information. This course is designed for those who will be doing the work behind the scenes to manage the local EGS system and support staff who may be assigned these tasks. Please click here to register for the webinar now. Participants will need access to a computer to participate in the webinar.
https://register.gotowebinar.com/register/6898032894316101899
THE DUTY OF FAIR REPRESENTATION AND THE NLRB
On June 25, 2020, at 1:30 pm EDT, the Industrial Relations Department will be hosting a webinar on the Duty of Fair Representation and the NLRB. This webinar is designed for any member, steward, or officer to learn what the Duty of Fair Representation is, what it means, and the laws and court cases that have defined it. The webinar will lightly touch on the National Labor Relations Board (NLRB), how it currently functions, and what locals and officers should do when someone files an unfair labor practice charge against them. Please click here to register for the webinar now. Participants should have a computer with internet access to view the materials being presented.
https://register.gotowebinar.com/register/8434605891691252235
House Passes New Stimulus Bill- Postal Funding Included
House Passes New Stimulus Bill- Postal Funding Included
May 16, 2020

On May 15th, the House of Representatives passed the fifth COVID-19 response package.
The 1815 page Health and Economic Recovery Omnibus Emergency Solutions (HEROES) Act (H.R. 6800) provides some resources to lessen the impact of COVID-19 including direct stimulus payments to Americans, aid for state and local governments, and emergency appropriations for the Postal Service.
"There is a big, bold movement taking place across rural and urban American to make sure postal funding is included in the next stimulus," said APWU President Mark Dimondstein. "Postal workers and our labor/community allies have come together to protect this national treasure and ensure it can continue to serve the country in both good times and times of crisis."
The postal provisions in the House legislation will need to be passed by the Senate before it goes to the White House to be signed into law.
A snapshot of postal provisions in the House bill, include:
An emergency $25 billion appropriation for lost revenue due to COVID-19

This emergency appropriation will ensure that USPS has the financial resources to continue serving the nation thru the end of the year and beyond.

Ensures that USPS has access to the $10 billion line of credit with no strings attached;
Provides postal and other essential frontline workers the hazard pay they deserve.
Protects the democratic process by ensuring that every voter can access no­-excuse absentee vote­-by­-mail in the upcoming election, and every federal election thereafter.
"We are encouraged to see that postal funding was included in this House legislation," said Legislative and Political Director Judy Beard. "Our focus must now turn to the Senate where we will continue to educate Senators on the importance of the Postal Service and its' essential workers who are on the frontline of this crisis each and every day."
Senators need to keep hearing from our members about the role the Postal Service is playing during this crisis and its' ongoing value to the American people.
Call your Senators today and tell them to adopt postal funding as passed in the House! Call 844-402-1001 to be connected.
On a broader front, we will continue to support our brothers and sisters in the labor movement and beyond in the fight to obtain adequate health and safety measures and economic justice.
CALL YOUR SENATORS
Enter Your Information and click to Call Your Senators Now
The Postal Service is in a crisis, caused by the Coronavirus, and Congress needs to act, urgently.
The Coronavirus shutdown is plummeting postal revenues while increasing costs. The Postal Service could run out of money by the end of the summer and the Trump administration is trying to leverage the crisis to sacrifice our public Postal Service at the altar of private profit.
Call your Senators urgently. Tell them to support stimulus funding for our public Postal Service.
Payment of Retroactive Pay Increases
Payment of Retroactive Pay Increases
May 13, 2020
EMPLOYEES COVERED BY THE NATIONAL AGREEMENT
Retroactive payments for the pay increases under the 2018-2021 Collective Bargaining Agreement, have been scheduled for pay period 18-2020, paycheck dated September 4, 2020 – barring any issues or unexpected systems changes.
Employees began receiving pay at the current rates in pay period 09-2020, effective April 11, 2020. Retro payments for the National Agreement will cover the period from November 24, 2018 through April 10, 2020.
Under the terms of the 2018-2020 National Agreement, employees will receive four retroactive pay increases:
1.3% effective November 24, 2018 (2.3% for PSEs);
$624 or $0.30/hour COLA retroactive to August 31, 2019 for career employees;
1.1% effective November 23, 2019 (2.1% for PSEs);
$166 or $0.08/hour COLA retroactive to February 29, 2020 for career employees.
INFORMATION TECHNOLOGY/ACCOUNTING SERVICES (IT/AS) BARGAINING UNIT
Retro pay for Information Technology/Accounting Services (IT/AS) bargaining unit will be paid (barring any issues or unexpected systems changes) in PP 14-2020, pay date July 10, 2020. The IT/AS Agreement retro will cover the period from January 19, 2019 through April 10, 2020.
Under the terms of the extended 2017-2020 IT/AS Agreement, employees will receive four retroactive pay increases:
1.3% effective January 19, 2019;
$187 COLA effective April 27, 2019;
$374 COLA effective October 26, 2019;
1.1% effective January 18, 2020;
$187 COLA effective April 25, 2020.
NATIONAL PROFESSIONAL POSTAL NURSES (NPPN) BARGAINING UNIT
Retro pay for National Professional Postal Nurses (NPPN) bargaining unit will be paid (barring any issues or unexpected systems changes) in PP 11-2020, pay date May 29, 2020. The NPPN Agreement retro payment will cover the period from August 19, 2017 through April 10, 2020.
Under the terms of the 2017-2023 National Professional Postal Nurses Agreement, employees will receive four retroactive pay increases:
2.4% effective August 19, 2017;
2.9% effective August 18, 2018;
3.0% effective August 17, 2019.
PREVIOUSLY EMPLOYED: RETIREES, SEPARATED, TRANSFERS, ETC.
Employees who worked during the retroactive period will be paid the higher rates due for that work. Workers who transferred, separated, quit, or retired will be compensated for any time worked when higher rates were due.
The higher rates will be reflected in adjustments to TSP, Retirement, terminal leave payments, and life insurance. Retirees will eventually get any necessary adjustments to annuity payments – including retroactive annuity adjustments.
Date Announced for PSE Conversions
Date Announced for PSE Conversions
April 10, 2020
The Postal Service has informed the APWU of the date that Postal Support Employees (PSEs) who have been employed in 125 workyear or larger offices for more than 2.5 years (30 months) will be converted to career status. Over 2,500 current PSEs will be converted on May 9, 2020, the beginning of pay period 11.
These conversions are consistent with the Interest Arbitration panel's award issued on March 10, 2020. Conversions of PSEs was one of the demands your negotiators made from the very start of negotiations.
"Being able to achieve career status for PSEs was an important goal for us," President Mark Dimondstein said. "These newly converted employees will see an immediate pay increase, an increase in benefits paid for by the Postal Service, guaranteed work hours, and in most cases fixed schedules."
As a reminder, as newly converted career employees, these PSEs will have sixty-days (60) from May 9, 2020 (July 8, 2020), to make benefit decisions. New career employees may choose new health insurance plans, enroll in the Federal Employee Group Life Insurance (FEGLI) plan, choose how much to contribute to the Thrift Savings Plan (TSP), where to allocate TSP funds, and other benefits decisions. The Postal Service is supposed to send each newly converted employee a "benefits" book with all the necessary forms and instructions for making these extremely important decisions. The sixty-day limit is a hard limit and cannot be extended. Employees are encouraged to begin looking at their new benefits and not wait until the very end of the 60 days to decide.
"The importance of these conversions cannot be overstated," Clerk Craft Director Lamont Brooks said. "This isn't the end of our battle for more career employees. We are proud that the APWU did not see an increase in the allowable usage of non-career employees in our new contract and we will continue to fight for what is right — an all-career workforce."
Page Last Updated: Jul 28, 2020 (14:49:15)